HISTORY
In the winter of 1977, Jeff Gater took a correspondence course from the Belsaw Institute on becoming a locksmith. He was a senior in high school, attending classes until noon and working a part time job in the afternoons and weekends. In June of the same year, Jeff completed locksmith school and graduated from high school. His first day on the job as an apprentice locksmith was July 2, 1977 at A-1 Safe & Lock Co in Trenton, New Jersey.
While working under Jim Parker at A-1 Jeff learned to apply the knowledge he gained from locksmith school to real life experience. Jeff learned from Parker to be patient and think through new problems. At this point every problem and key making experience was new to Jeff, and Parker was a tolerant and persevering instructor.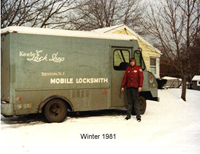 In 1979 Jeff started working at Keefe's Lock Shop, also in Trenton. Under Keefe's employ, Jeff was trained the importance of quality workmanship, customer satisfaction and the indispensable need for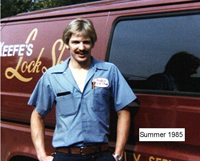 continuing education in the trade. Jeff worked at Keefe's Lock Shop until he moved to West Palm Beach, Florida in 1985. Under Keefe's mentorship Jeff established his principles for professional standards, precision workmanship and practical solutions for the security needs of his customers.
Jeff started working for Richard Rowan at Wilson-Rowan Locksmith Co in January of 1986. It was at Wilson-Rowan Jeff was encouraged for the first time to learn about safe deposit lock servicing. Jeff also learned the basics of safe opening and repair. Jeff was a good fit for Wilson-Rowan. They were already established as the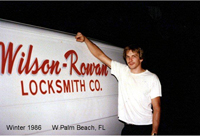 premier locksmith in Palm Beach County and known for solving the most complicated security problems. His skill for fabricating innovative solutions was broadened greatly the three years he was there.
Jeff moved to North Palm Beach and became a sub-contractor locksmith for A. American Master Locksmith in 1989. He worked exclusively for A. American under the management of Jerry Donaghy. Jerry was invaluable in training Jeff how a small business is operated, how to get things accomplished with very little capital, and how to understand the politics of corporate America.
Jeff opened Gater's Locksmith, Inc on May 1, 1991. His commitment to continuing education, ethical business practices and precision workmanship has helped him remain and thrive in business for 20 years. He is recognized as a Certified Master Locksmith (CML) by the Associated Locksmiths of America (ALOA). He is also a Certified Professional Safe Technician (CPS) by the Safe & Vault Technicians Association (SAVTA), and a Certified Master Safecracker (CMS) by the National Safeman's Organization.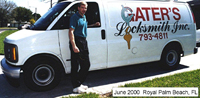 In 2011 Jeff earned a General Services Administration Inspectors License (GSAI). He is trained to open and repair government GSA containers designed to protect Confidential, Secret and Top Secret Documents.